Welcome Aboard Blantyre!
Book Your Special Event cruise!

Schedule your Mid October Fall Foliage Cruise now! Call to make reservation.

Captain Steve Wheeler
(860) 559-6745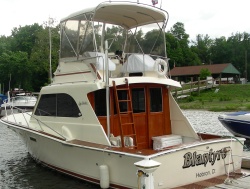 Explore the serenity, beauty, and excitement of the Connecticut River and Long Island Sound aboard "Blantyre"!
Cruises operate weekends, holidays, Monday through Friday by reservation. We board passengers at the Mattabesett Canoe Club Dock in Harbor Park, Middletown CT. The Canoe Club restaurant and riverside patio bar offer outstanding Connecticut River views, great food, and it's a hub of entertainment on the river's edge. Enjoy the entertainment, great food, spectacular river views, and a Connecticut River Cruise! Life is good on the River!
Blantyre is a restored 1975 Egg Harbor, 33 feet in length, air conditioned with twin engines and accommodates 6 passengers very comfortably. Blantyre carries the US Coast Guard UPV Decal.