Welcome Aboard!
Thank You! We had an exciting and fun season!
Beginning in May of 2016 "Aqua Mist", a 34 ft Hatteras, will join our fleet!
Captain Wheeler
Captain Sierpinski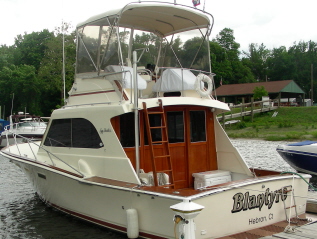 Explore the serenity, beauty, and excitement of the Connecticut River and Long Island Sound aboard either "Blantyre" or "Aqua Mist"!

Cruises operate weekends, holidays, Monday through Friday by reservation. We board passengers at the Mattabesett Canoe Club Dock located in Harbor Park, Middletown CT. The Canoe Club restaurant and riverside patio bar offer outstanding Connecticut River views, great food, and entertainment on the river's edge. Make your reservations now! Life is good on the River!

Blantyre and Aqua Mist are 34 feet in length and accomodate 6 passengers very comfortably.